Matcha Lattes have been gaining fame and interest over recent years. This is due to their Instagram worthy vibrant colour and associated health benefits. If you've never heard of matcha lattes before or you're hoping to discover the incredible health benefits of matcha, you've come to the right place. There are wide-ranging versions of lattes. This article covers everything you need to know about Matcha Green Tea latte drinks. By the end, you'll know why they are taking the high street by storm. We have also included plenty of delicious inspiration for recipes too.
What is a Matcha Latte?
Matcha is a super fine, shade-grown Japanese green tea powder. It is one of the key elements when making a matcha latte. It is the vibrant green colour of this drink which makes it so easily identifiable. You can blend this powder with all types of milk to form a frothy green and delicious hot drink. Containing a small amount of caffeine and plenty of vitamins, minerals and anti-oxidants this drink offers a wide range of health benefits. Matcha contains over 16 times more anti-oxidants than blueberries and is referred to as the superfood of superfoods. As a result of this, demand for matcha lattes in the UK is growing. Matcha tea powder is easy to buy online so we highly recommend that you can make your own matcha lattes at home. That way you know exactly what goes in so you can get maximum benefit out!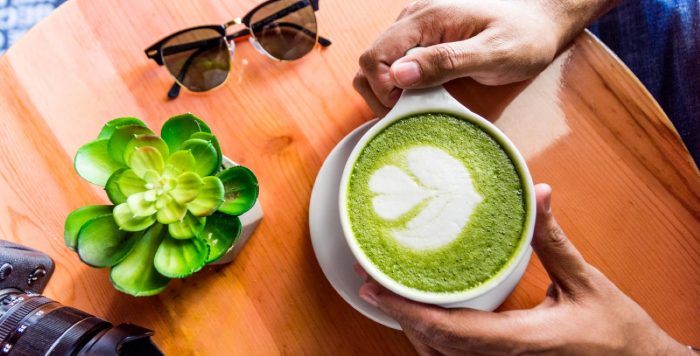 What Does Matcha Latte Taste Like?
Unlike a regular latte, a matcha latte is made using a shade-grown green tea powder. The green tea gives this milky frothy drink a sweet, moorish vegetal taste. Some people say that matcha itself carries an umami flavour, whereas others claim that it reminds them of spinach. With such an incredible green colour, you really have to try a matcha latte for yourself to truly understand its unique and smooth taste. There really is a matcha latte recipe to suit everyone's tastes!
What Is Matcha Latte Made Of?
There are several variations to the recipe but there are always two main elements to the perfect matcha latte. First, you need a teaspoon of pure Kineta matcha powder. This is a shade-grown Japanese green tea powder packed with incredible antioxidants. Next, you need a base, which can be almond milk, coconut milk, oat milk or perhaps cow's milk. These two ingredients combined create a standard matcha latte. The process is simple. It involves making a shot of Matcha tea. Then pour hot frothed up milk into a glass. Slowly pour over a shot of Matcha (matcha blended with 50ml water) to give a double-layered green latte drink. Then you can get creative. Add natural sweeteners such as honey or agave syrup. Add spices such as cinnamon, ginger or mint for a matcha latte with a difference.
Green Tea Latte Recipes
Ready to taste this incredible superfood for yourself and swap your daily caffeine fix for the benefits of matcha? Here are some creative and delicious ways to enjoy your Kineta Everyday Matcha Tea.
Iced Latte Recipe
Enjoy matcha latte even during the summer by adding ice and blending it Frappacino style. Or simply pour over ice. Add a reusable straw and you're good to go.
Mint Latte Recipe
Another super easy and comforting recipe. Add Kineta matcha mint to your matcha latte. Blend the powdered mint matcha as you would pure green tea powder to make your shot. Then pour into frothed milk in your glass. Minty latte goodness! Garnish with mint leaves to be Instagram ready!
Mint also has amazing health benefits and is a natural anti-inflammatory. This is a great warming drink with added benefits during the cold and flu season. The matcha latte with mint will keep your energy levels high and the bugs at bay!
Keto Latte Recipe
For anyone following a keto diet, you will be on the lookout for recipes that are delicious with zero net carbs. If you're used to drinking tea or coffee on a daily basis then switching to a keto matcha latte will be easy for you. Matcha lattes offer a tasty energy boost without having to deviate from your keto path. They'll also help give your metabolism at the same time! Prepare your matcha latte bulletproof style. Take frothed coconut milk and pour over your matcha shot with whisked with a tablespoon of MCT oil. Get those ketones flowing!
Coconut Latte Recipe
Keep it vegan with a coconut recipe. Blend organic matcha tea powder with coconut milk and serve either hot or cold. This is a firm favourite with coconut lovers!
Keep things simple with a matcha green tea latte recipe. Looking for more matcha recipe inspiration, head over to our more detailed collection of matcha latte recipes here.
Matcha Latte vs. Coffee Latte – Head to Head Which is Best!
If you're a bit of a coffee addict, green tea might just be the trick to help ease you off those jitter inducing coffee beans. Shake up your morning routine. Prepare a green tea latte instead of your usual coffee. It tastes amazing and you'll also be able to enjoy the remarkable health benefits of this vibrant green drink.
Here are 5 reasons why matcha lattes are far better than coffee.
1: Gives You Energy over 3-6 Hours
Ground green tea used to make the perfect matcha latte, has the ability to give you a natural boost of energy. Similar to coffee, matcha naturally contains caffeine, but this is where the similarities end. Due to the combination of caffeine AND L-Theanine, there are no caffeine energy crashes or caffeine jitters. You can drink a delicious cup without having to fear that mid-day energy crash.
2: Matcha Lattes Won't Stain Your Teeth
If you're a coffee drinker, you'll know how badly coffee can stain your teeth. Matcha does not have this effect on our teeth at all. SO order a matcha latte and your sparkling smile won't be compromised. You'll get added health benefits too!
3: High in Antioxidants
Build-up of bacteria in the mouth is what eventually causes cavities. The antioxidants found in matcha lattes have been shown to help reduce the level of bacteria to help prevent cavities. Drinking matcha lattes are thought to help prevent tooth decay, gum disease and reduce cavities due to the high anti-oxidant content.
4: Boost Your Metabolism
Another incredible health benefit of matcha lattes is that they can help to speed up your metabolism. According to a study by the American Journal of Clinical Nutrition found that drinking shade-grown green tea, whether it be as a latte or as a herbal tea, on a regular basis can help to boost metabolism which is great news for those interested in weight loss.
5: Keep You Calm & Focussed
The Japanese green tea powder used in matcha lattes can help to make you feel calmer and less anxious. So, to help keep you calm and focussed on the task ahead then switch from your coffee to green tea powder instead!
Are Matcha Lattes Keto Friendly?
Yes, matcha lattes are keto-friendly. When made with a no added sugar recipe, they are low in carbs and sugar. According to many keto experts, drinking caffeine is beneficial and helps improve performance and metabolic function. Simply avoid adding sugar or sweeteners to your recipe to keep it keto!
Benefits of Matcha Lattes
As we've briefly mentioned, matcha lattes have remarkable health benefits and is a superfood is becoming increasingly popular worldwide. To unlock matcha's true potential, never add sugar to your matcha latte, only prepare the matcha shot with water, Japanese green tea powder and your milk of choice. Let's take a more in-depth look at the benefits of matcha lattes and why they're so much better than your average coffee latte.
Matcha Latte Superfood Benefits
High in antioxidants to support the body against free radicals and disease
Boost metabolism
3-6 hours energy
Improve appearance of skin
Increase your mental clarity and focus
Reduce inflammation
Make yourself a delicious matcha latte today for a powerful energy hit that offers not only a unique flavour, but also remarkable health benefits. For a more detailed, scientifically focussed article on matcha benefits check out our blog.